Town gets $25,000 from New Horizons for Seniors Program



Caledon Enterprise|Jul 09, 2013|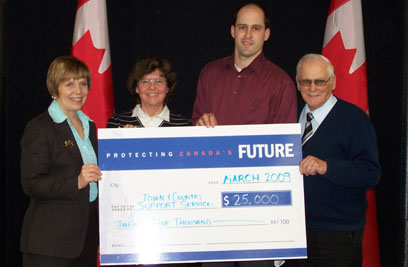 Seniors in the Town of Caledon will soon have new opportunities for social participation and inclusion, thanks to a $25,000 grant from the Government of Canada's New Horizons for Seniors Program.
Based on community engagement, the Town will use the grant money to develop an Older Adults Strategic Plan to determine existing services and the needs/provisions of future services. Areas of study will include housing, recreation, health, communication, transportation and any other area that may apply and formulate recommendations for the Plan.
"As we prepare for the inevitable demographic shift in our population, the contributions of the New Horizons for Seniors Program will enable us to strengthen our community," said Mayor Marolyn Morrison.
"The Seniors' Advisory Committee has been advocating for an Older Adults Strategic Plan for Caledon and we look forward to participating in this Project," said Bob Crease, Chair of the Seniors Advisory Committee.
The New Horizons for Seniors Program is a federal Grants and Contributions program that supports projects led or inspired by seniors who make a difference in the lives of others and in their communities. The funding initiative will enable seniors of Caledon to share their knowledge, skills and experiences with others as well as help the community to increase its capacity to address local issues.