Ottawa urged to offer grants; one-stop shopping for auto investment

Canada's auto industry adviser called on the federal and Ontario governments Wednesday to implement measures aimed at changing the "negative" perception of Canada as an expensive place to build vehicles.
"One of the things that I discovered the perception about Canada was very negative; people say 'Mexico is it; Canada is not,'" Ray Tanguay told reporters on the eve of the Canadian International Auto Show in Toronto.
Appointed to the post last year, Tanguay's mandate is to develop a strategy designed to encourage auto makers to invest in Canada, which has lost out to lower-cost jurisdictions such as Mexico and the U.S. South.
Six months into the job, Tanguay has determined that Canada needs to do a better job of selling the "benefits" of such factors as its educated and skilled workforce, universal health care, relatively lower corporate tax rates, Canada-U.S. exchange rate and the Great Lakes auto production cluster.
"The industry in Canada is still really relevant," said Tanguay. "We still make 2.4 million units in Ontario and the Great Lakes still is the biggest auto industry cluster, producing eight million units each year."
Canada's advantages outweigh cheap labour costs in Mexico, where auto workers earn between $5 and $8 an hour, he said.
Canada also has the "largest information technology cluster outside of Silicon Valley," he added. "We've got over 19,000 IT establishments in Ontario alone, employing 260,000 people."
But, there are steps that Ottawa and Queen's Park must take to address longstanding industry complaints about having to navigate two levels of government bureaucracies. Tanguay recommended that Ottawa and Ontario set up a single investment body that would help "facilitate" automotive investment.
He cited ProMexico — the economic development arm of the Mexican government — as a model that has worked effectively.
"They have a much more focused group — a window of concierge services they provide to investors," said Tanguay. "In our case we have a tendency to want to negotiate. We have to change that mindset and be able to work with investors in a way that we take care of them and make the job easy for them to make that investment in Ontario and Canada."
Tanguay also took aim at the federal Automotive Innovation Fund, set up by the previous Conservative government. The fund, which provides incentives in the form of taxable loans, must be overhauled to provide grants, said Tanguay.
"We believe the AIF has not been very effective and we would like to see that change," he said.
Flavio Volpe, president of the Automotive Parts Manufacturers' Association, said consultations with the newly appointed federal Economic Development Minister Navdeep Bains have been positive.
"The industry as been asking for some time now for more relevant and efficient tools for investment attraction," said Volpe. "Competitive jurisdictions have been winning decisions because their funds are grant funds; the provincial fund is a grant fund. We have had positive conversations with the new minister and my hope is we may see something as early as the next federal budget or at least in this calendar year."
Tanguay said he plans to deliver a final report of recommendations to the federal and Ontario governments over the next year.
DISCLAIMER:
We believe the information contained in this article to be accurate. It is presented with the understanding that we are not engaged in rendering legal, accounting, or investment advice. When professional assistance is required, utilize the services of a licensed real estate broker, lawyer, accountant, or other consultant as may be required.
To buy a directory of all Canadian Real Estate Grants at 60% discount, please go to: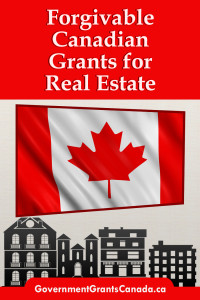 http://www.flipping4profit.ca/special-services/real-estate-grants/
Special Sale Forgivable Canadian Business & Real estate Grants, Canadian Credit Repair


P.S. Success isn't a matter of chance, it's a matter of choice. So it's up to you to make the right choice to become successful. If you don't know what to do it starts with making the choice to register for this LIVE real estate investors training in your town now at www.Flipping4Profit.ca and making sure you make the right choice to SHOW UP!!! Learn more to earn more about Canadian Tax sale properties.